Download & Compress PDF Files Now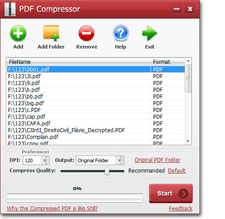 PDF Compressor
Product Version:
V5
OS:
Windows 11 / Windows 10 / Win 7 / Win8 / XP / Vista or Later (32/64 bit)
File Size:
15 MB
How to Use:
Click the Download button to download the installation file and install. Run the program and add your PDF files to start compressing.
Frequently Asked Questions of PDF Compressor (FAQ)
How to compress PDF files & reduce PDF file size step by step?
Why the compressed PDF file is still big, or even larger than before?
Why the compressed PDF pages are blurring?
How-to's
How to Compress a PDF Without Adobe and Acrobat PDF Software
How to Reduce the Size of a Scanned Document
How to convert PDFs to Scanned PDFs in Bulk
Reduce PDF Size not Working? Use the PDF Compressor Correctly
The Best Offline PDF Compressor for Windows 11 and Windows 10
Why Is My PDF So Big? Solution for Making PDF Files Smaller
Adobe PDF Resizing Not Working? Try PDF Compressor
How to Compress a PDF File for Uploading on Windows
How to Convert a Standard PDF to a Compressed PDF File
How to Condense PDF Files
How to make a PDF document Smaller
How to Reduce PDF File Size on Windows
How to Compress PDF File Without Losing Quality
How to Shrink a PDF File on PC in 5 Steps
Fast PDF Compressor
How to Compress PDF on Windows 11 and Windows 10
How to Compress PDF Files
Best PDF Compressor Software for Windows
The PDF Compressor Application For Windows Users
How to Reduce PDF Files for the Email Attachment
How to Downsize the PDF File
I Want to Compress My PDF File, What Should I Do? [Resolved]
The Best Batch PDF File Compressor
Review:
The best software when it comes to reduce the size of PDF files and compressing PDF files
- Reviewed by MadDownload
PDF Compressor Latest Download for PC Windows 11/Win 10/Win 8/Win 7
- Reviewed by SoftOnline
Compress PDF Files & Reduce PDF File Size Easily
- Reviewed by SoftLay